Landscape Design
Delivering Stunning Realities...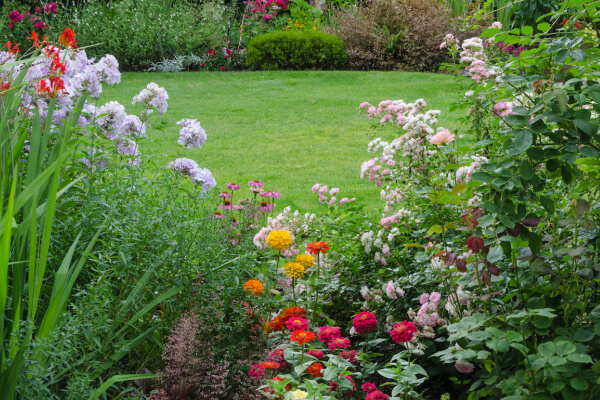 Creating Beautiful Landscapes
in Union County for Over 30 Years
At R.F. Landscaping, we've turned landscape design into a craft. Our landscape designers are visionaries, employing flowers, plants, trees and landscape architecture and hardscapes to enhance your property. We strive to transform your landscaping ideas into a stunning reality.
Why a High Quality Landscape Designer is Important?
Enriching Properties and Lives
Landscape design can be as simple as designing a planting plan or as complicated as installing walkways and wooden structures. Our landscape designs enrich your property by introducing texture, color and flow. Landscape and garden design are great ways to add another dimension to your landscape, as well as another place to enjoy and entertain.
Why Home Owners Choose Our Landscape Design Service
Vision, Experience + Expertise
It can be difficult for home and business owners to visualize their outdoor spaces. Our goal as a landscape design company, is to simplify the process while employing our expertise on flowers, plants, trees and hardscapes. With extensive knowledge built up over the past 30 years, we have seen it all and can help you mix and match to create an aesthetically beautiful visual. Even more, our landscape design contractors strive to maximize your space and construct a cohesive flow from the patio to the shrubbery.
Features of RF Landscaping Design
Landscape Plan
Flower, Shrub and Tree Selection and Planting
Sod Installation
Water Features and Ponds
Paver Patios
Retaining Walls
Walkways and Sidewalks
Firepits
Decks
Pergalis
Demolition and Site Cleanups
Irrigation
Yard Drainage
and much more...
Landscape Design Services
Our Process: Concept thru Implementation and Maintenance
Concpetualization
Our service begins with a landscape designer evaluating your property and its current conditions. After taking note of your vision and personal yard or garden ideas, we begin drafting a plan.
Design and Planning
Our experts take home style, neighborhood, animals, soil quality, sun, as well as property size and shape into consideration during the concept and design phase.
Implementation
Finally, we begin bringing the vision to life. Our designs can include hardscapes such as patios, walk ways, ponds, irrigation and fire pits, as well as tree, shrub and flower plantings, plus space clearing and removal of existing structures.
Maintenance
RF Landscape Construction also offers a fully array of maintenance services to keep you property looking beautiful. Ongoing, it can include lawn maintenance, fertilization, tree and shrub trimming, mulching and front and backyard cleanups to ensure your property continues to flourish.
Get Started Today!
RF Landscape Construction has been transforming all types of properties in the Union County area for well over 30 years. Working at a detailed level, you can trust our experts to create a beautiful landscape that fulfills your vision for the space.
Get started on your project by receiving a free consultation from one of our landscaping designers. Give us a call today at 908-276-6895 or email.
The RF Landscaping Estimate Guarantee
"Quality & Customer Service Matter!"
~ Rich Fidlow
Our Accurate Estimate Guarantee...
complete knowledge of the services and materials
detailed and precise itemization of materials and labor
no unanswered questions, no vague information and no open ended estimates