Tree Trimming and Shrub Pruning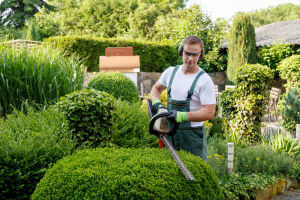 Tree and Shrub Pruning
in Union County for Over 30 Years
Are your trees and shrubbery becoming unruly or overgrown? Whether it be from weathering or age, our comprehensive tree trimming and shrub pruning service will restore the shape of your plants.
Why Consider Tree Pruning and Trimming?
Promote Stronger Growth and a Longer Life
Trimming and pruning will make your greenery look neat and tight while still maintaining a natural appearance. In addition to improving the aesthetics of your property, tree pruning removes limbs damaged from weather, sun exposure, or disease. This eliminates the threat of damage and obstruction posed by falling and decaying branches. Our pruning and tree trimming service enhances the health of your plants, enabling them to continue to grow and live longer.
Tree Trimming Service
Not only are we a tree trimming company, we also cover hedge cutting as well. These services encompass trimming tree branches and removing dead limbs. We work with all types of trees including...
Flowering Plum
Clump Birch
White Dogwood
Pink Dogwood
Flowering Crab Apple
Japanese Red Maple
Weeping Cherry
Weeping Norway Spruce
Norway Spruce
Col. Blue Spruce
Gold Hinoki Cypress
White Pine
Leyland Cypress
Alberta Spruce
and more...
Shrub Pruning Service
Pruning is a unique type of trimming that reshapes broadleaf plants without cutting their leaves in half. Homeowners and business owners alike often struggle with knowing when to prune shrubs and how to prune shrubs adequately. Allow our profession to provide a service that includes...
Shrubs
Bushes
Perennials
Hydrangeas
Grasses
Arborvitaes
Junipers
Ferns
Boxwoods
and more...
Areas Serving
A Tree Trimming and Pruning Paver Contractor You Can Depend On!
For over 30 years, RF Landscape Construction has been providing landscaping services in the Union County, New Jersey area. Below are just several of the towns and surrounding areas we serve.
Fanwood
Garwood
Berkeley Heights
Mountainside
Summit
Watchung
Hire the Best of the Tree Trimming Companies
Home owners choose RF Landscaping because our landscaping experts are dedicated to improving the health and longevity of your landscape. An unwavering commitment to high standards and detail sets us apart from other tree trimming companies in the area. Even more, each tree trimmer has extensive experience with every type of plant pruning.
Rejuvenate Your Property Today!
Give us a call today at 908-276-6895 or email for a free estimate. As part of your FREE estimate, we will further explain our methodology and assess the labor and materials needed for your property.