Paver Installation
Bringing Dreams to Life...
Pavers and their proper installation play a crucial role in both the functionality and appearance of your property. We've customized each facet of our masonry service to cater to our customers' individual needs in efforts to bring each homeowner's vision to life. In fact, if you are considering a paver patio, paver driveway and paver walkway, RF Landscape Construction has the experience, expertise and a stellar reputation to create your front or back yard oasis, on-time and on-budget.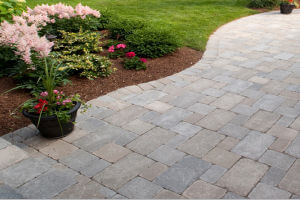 Paver Patios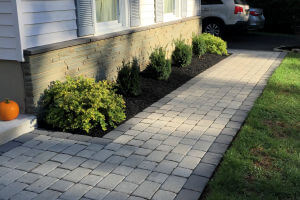 Paver Sidewalks and Walkways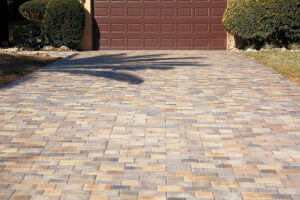 Paver Driveways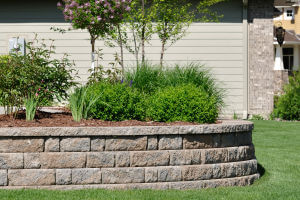 Retaining Walls
The Paver Installation Company
Type of Paver Design, and Installation and Repair Projects
Patios
Walkways
Driveways
Retaining Walls
Decorative Walls
Sidewalks
Firepits
and much more...
Whether you're installing pavers to replace existing ones or seeking to reconstruct your outdoor space, our experts will help you choose the right materials and the perfect design to complement your home's style and budget. Understanding the work required for rectangular and curved installations, our masons can help you make the perfect economic and aesthetic choice on labor and materials. Typically, straight, square and rectangle driveway, walkway and patio designs are more economical as they require fewer (if any) cuts. Curved installations require more cuts and labor.
Paver Maintenance
When it comes to landscaping, paver maintenance is often overlooked. Over time, dust settles between pavers and weeds germinate. Tree roots push pavers out of place, disrupting their evenness and crisp appearance. Our maintenance service keeps your property looking great and ensures that your paver patios, walkways and driveways are securely in the ground. Our comprehensive service includes power washing, deweeding, lifting sunken pavers, resetting pavers and applying stabilizer sand. These procedures should be done every 2-4 years depending on your property's condition.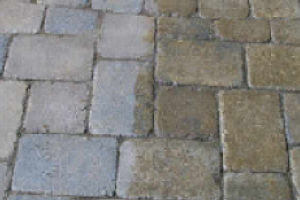 Restoration and Repair
Paver Repair and Restoration
Pavers can become worn and damaged as they age, detracting from their beauty and diminishing their value. Not only is an uneven surface unattractive, it can also be a walking hazard. Our repair service includes and applying paver sealer. Our paver contractors will restore the seamless elegance of your walkway, patio or driveway.
What Types of Pavers Do We Work With?
Choosing the best paver and style for your property can be overwhelming. It's important to consider the use of the paver, the style of your home and your budget. Whether you want driveway pavers, patio pavers or walkway pavers, our experts will help you make an educated decision that will bring your vision to life. Here are some of the brands and types of pavers for driveway, patio and walkway...
Wood Tie & Railroad Tie
Permeable Pavers
Travertine Pavers
Bluestone Pavers
and more!
Areas Serving
A Paver Contractor You Can Depend On!
For over 30 years, RF Landscape Construction has been providing landscaping services in the Union County, New Jersey area. Below are just several of the towns and surrounding areas we serve.
Fanwood
Garwood
Berkeley Heights
Mountainside
Summit
Watchung
RF Landscape Construction, The Paver Company
Serving Union County area as the go-to paver contractor, our paver installations have passed the test of time -- 30 years to be exact.
Through our comprehensive paver services, we effectively preserve the beauty of existing pavers and create beauty with new ones. Employing efficient techniques and using high quality products, you can trust RF Landscape Construction to deliver stunning results every time.
Get started on your project by giving us a call today at
908-276-6895
or
email
.
The RF Landscaping Estimate Guarantee
"Quality & Customer Service Matter!"
~ Rich Fidlow
Our Accurate Estimate Guarantee...
complete knowledge of the services and materials
detailed and precise itemization of materials and labor
no unanswered questions, no vague information and no open ended estimates