Planting
Tree, Shrub and Flower Selection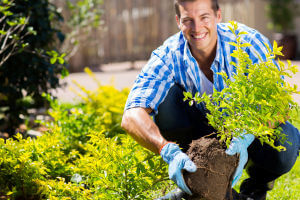 Planting Beautiful Trees, Shrubs & Flowers
in Union County for Over 30 Year
Adding new plants, shrubs, flowers and trees to your property is the perfect way to introduce texture, color and life to your landscape. Replacing old and unruly ones is the perfect way to alleviate obstruction and restore use of your space with a healthy landscape. Our experts will transform the look and feel of your property whether it be designing an intimate backyard or creating an inviting pathway.
When To Start From Scratch
Homeowners and business owners alike often struggle in deciding whether to trim and replace problem plants or remove all of the plants and start from scratch. The answer depends on the situation. The following must be considered...
What is the sun, soil, water and pest situation on your property?
Are your plants overgrown or dwarfing the front of your house?
Are your plants obstructing windows or walkways?
Are the existing plants healthy?
What's your preference and budget?
Planting and Gardening Service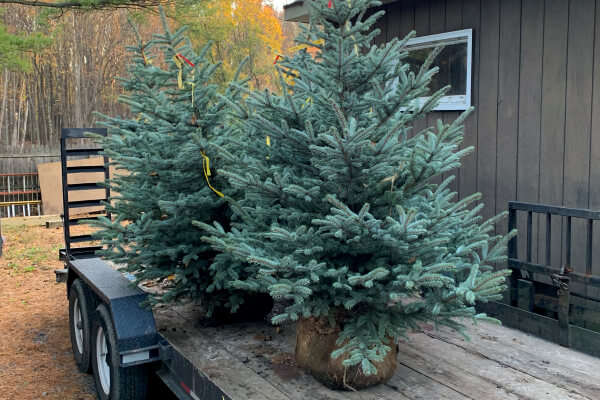 Tree Selection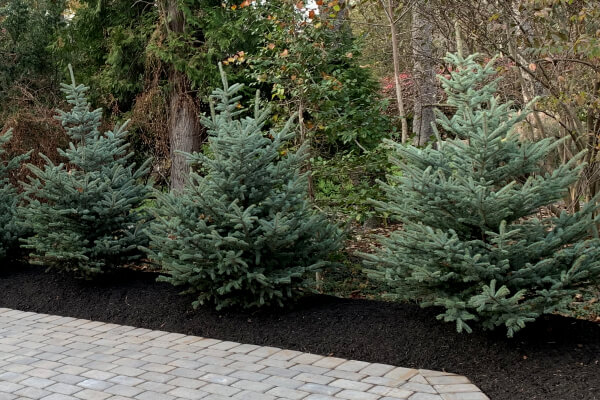 Tree Planting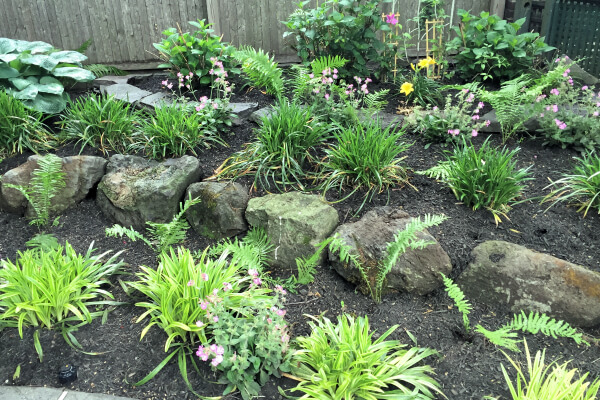 Plant Selection and Planting
Our Quality Process
At RF Landscaping, we pride ourselves on delivering a comprehensive shrub and tree planting service. This begins with an assessment of your property to determine soil conditions, weather patterns, and sun and water exposure. Using these findings, we'll work with you to determine which plants, trees or shrubs best suit the conditions of your landscape and fulfill your vision for the space. Our landscapers will remove existing greenery and clear the space before we begin to plant a tree, shrub or flower. Garden landscaping and planting, specifically is customized to the property owners desires and often involves design and planning, plant selection and planting.
Our Guarantee
We guarantee our landscape gardeners will bring your vision to life by perfectly combining plant size, height and color.
Tree Planting
Planting trees is a great way to increase privacy on your property and go green. As a tree service company, we're well versed in working with all types of trees and conditions in the Union county area. We take our tree planting service one step further by helping you choose the best fit for your vision and soil conditions. Understanding the type of tree that will flourish on your property is part of the pride we take in our process. This list illustrates many the trees we often plant in New Jersey:
Flowering Plum
Clump Birch
White Dogwood
Pink Dogwood
Flowering Crab Apple
Japanese Red Maple
Weeping Cherry
Weeping Norway Spruce
Norway Spruce
Col. Blue Spruce
Gold Hinoki Cypress
White Pine
Leyland Cypress
Alberta Spruce
and more...
Shrub Planting
Planting shrubs can increase privacy on your property or create a lining along building structures. We've worked with all types of shrubs ranging in size and height. These include...
White Azalea
Purple Azalea
Purple Rhododendron
Silver King Euonmus
Green & Yellow Euonymus
Low Spreading Euonymus
Boxwood
Variegated Boxwood
Upright Blue Juniper
Blue Star Juniper
Gold Juniper
Red & Yellow Barberry
Rug Juniper
Purple Leaf Sand Cherry
Montgomery Blue Spruce
Mugo Pine
Salvia
Yellow Coreopsis
Pink Coreopsis
Domestic Fern
Japanese Fern
Emerald Green Arborvitae
and more...
Flower Planting
Planting flowers is an excellent way to aesthetically enhance your property. Whether you're looking to make it feel more homey and inviting or vibrant and exotique, our experts will help you bring that vision to life. It's also important to consider whether you need deer resistant or shade tolerant plants based on your location. We work with all shapes, sizes and breeds of flowers, including...
Aster
Daylily
Hibiscus
Sun Flowers
Chrysanthemums
Asters
Mums
and more...
Areas Serving
Reliable Planting and Selection Service You Can Depend On!
For over 30 years, RF Landscape Construction has been providing landscaping services in the Union County, New Jersey area. Below are just several of the towns and surrounding areas we serve.
Fanwood
Garwood
Berkeley Heights
Mountainside
Summit
Watchung
Get Started Today!
Our landscapers' distinct attention to detail allows us to transform plants, shrubs and trees into statement pieces for your property. From gardens and entryways to front yards and sanctuaries, you can trust our experts to visually transform your landscape and improve its overall health and longevity. Give us a call today at 908-276-6895 or email for a free estimate. Our estimates include an assessment of your property and the labor and materials necessary to bring your vision to life.
The RF Landscaping Estimate Guarantee
"Quality & Customer Service Matter!"
~ Rich Fidlow
Our Accurate Estimate Guarantee...
complete knowledge of the services and materials
detailed and precise itemization of materials and labor
no unanswered questions, no vague information and no open ended estimates