Yard Drainage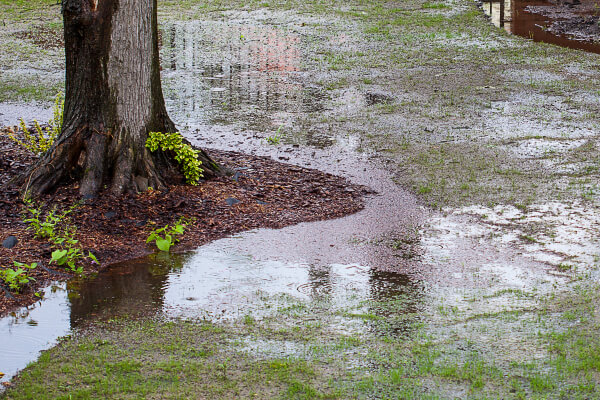 Get on the path to a dry yard today!
Fixing Yard Drainage Issues in Union County for over 30 Years.
At RF Landscape Construction, we understand how destructive flooding and water damage can be to your property and home. Luckily, we also understand how to prevent it. Our yard drainage solutions are designed to stop the buildup of water that can ultimately lead to long-term structural damage and moisture-related problems. Our experts offer a comprehensive range of stormwater management services that will protect your home while adding value to your property.
Water puddling in your yard?
Effective water drainage systems either facilitate water flow to lower elevations or allow for corrective grading. Our drainage solutions resolve water drainage issues, both practically and affordably. For low-lying areas, we can install a dry well or a pumping station. Since each property is unique, our drainage professionals perform a property evaluation to examine its elevation, soil conditions, and rainwater flow. Once the assessment is complete, we will determine the solution options and recommendations.
Yard Drainage Solutions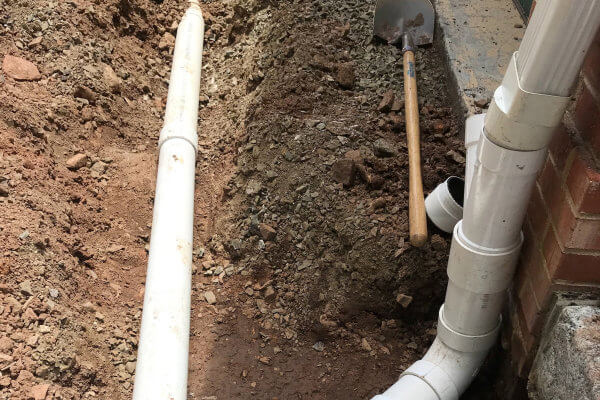 Underground PVC Pipes Connected to Downspouts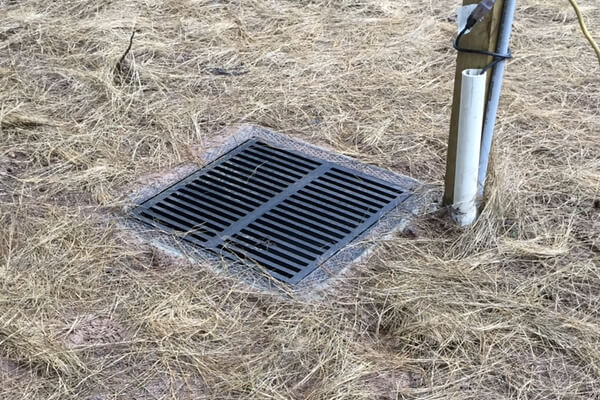 Dry Well with Outdoor Sump Pump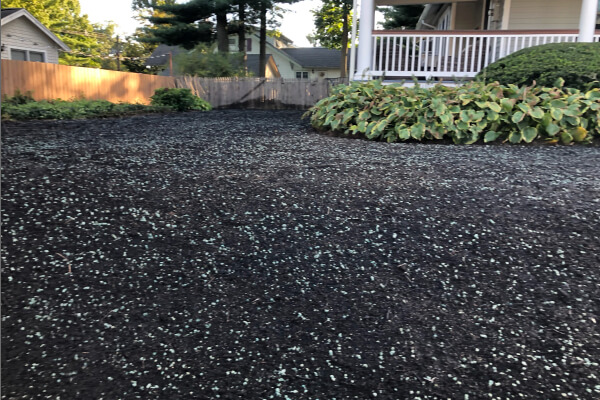 Property Grading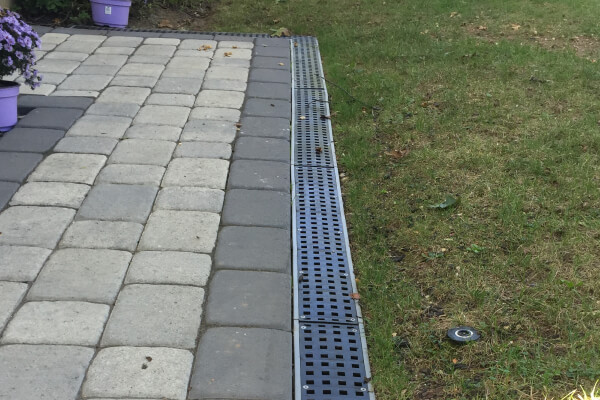 Track Drain Installation along Paver Walkway
Property Water Drainage System
Effective water drainage systems either facilitate water flow to lower elevations or allow for corrective grading. These methods resolve water drainage issues both practically and affordable. If these are not feasible for your specific property, a dry well or pump station can be installed. When determining the best yard drainage solution, we look your property's available elevation, soil conditions, typical influx of water (volume), and traffic load. These factors affect the depth, diameter, thickness and composition of the pipe that can be utilized. They also affect the type of soil separator and gravel that can be used.
We offer a range of customizable drainage systems that can be used to mitigate your property's water problems. Our drainage solutions can include the installation of Plastic Drain Boxes, Cap Surface Drains, and Concrete Catch Basins in combination with underground PVC drainage pipes that enable water to flow to lower elevations for proper drainage. Our systems can facilitate driveway and underdeck drainage. And they can be integrated with the installation of downspouts, grading, and sump pumps attached to your house structure.
Yard Drainage Expert Rich Fidlow Explains the Drainage Grid System
Drainage Grid System
Drainage Grid Systems are designed to absorb and redirect water below the surface with a series of underground pipes and drains that resemble a tic tac toe pattern. A grid system is used to remove water from the surface and direct it into a PVC drainage pipe. This pipe then redirects the water to the street or a lower elevation.
Sub Surface Drainage
Once the optimal elevation is determined, a subsurface drainage system can be installed to facilitate stormwater runoff and water flow redirection. Typically, this consists of a perforated PVC pipe surrounded by clean gravel and a piece of filter fabric to separate the gravel and backfill soil.
Well Pump
If your property doesn't have the optimal depth to install an exterior landscape drainage system, a well-pump can be installed to extract water from below the surface to a higher elevation where it can easily be removed. This type of system will also protect your property and home from long-term water damage.
Dry Well
An alternative to a well pump, a dry well can be installed below your property's surface. A dry well collects potentially polluted water and reintroduces it into the underground water table. To install a dry well, we excavate a large hole that captures and directs surface water into groundwater. This is even more effective in eliminating pooling when installed in conjunction with an underground grid drainage system.
Outdoor Sump Pump
Outdoor sump pumps are another alternative to well pumps and dry wells. Similar to an indoor sump pump, outdoor sump pumps collect water and pump it to a lower elevation to avoid accumulation.
Catch Basin
As part of the storm drain or sewer system, outdoor catch basins trap debris and prevent them from entering drainage pipes. These are typically used in municipal sewer systems and storm drainage systems.
Waterproof Coatings & Protective Boards
In order to prevent moisture build up, a thick, rubberized waterproof coating is applied to the exterior structure of your house. This would including walls, as well as footings. To further protect against moisture, we wrap and attach fiberglass or tar protective boards to the exterior foundation.
The RF Advantage: Indoor + Outdoor
Complete Basement and Yard Drainage Solutions
If your home or business is susceptible to groundwater build-up, foundation waterproofing and drainage services are essential to preventing property damage. In these cases, to protect your home, as well as your yard, yard lawn drainage and basement waterproofing must be implemented in tandem. At RF Landscape Construction, we pride ourselves on offering a complete solution for all of your property's water management needs. From exterior property drainage systems to interior sump pumps and protective painting, we'll help you protect your property.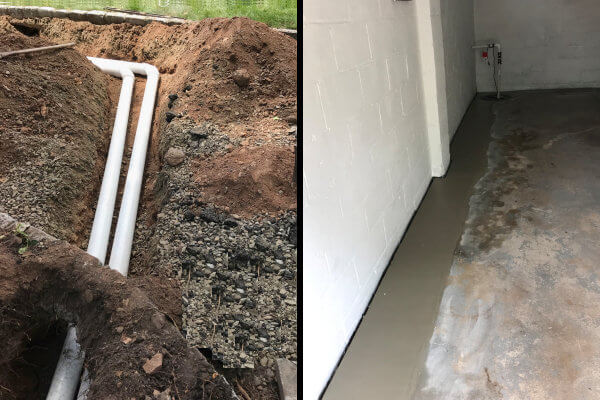 We specialize in both basement waterproofing and yard drainage solutions.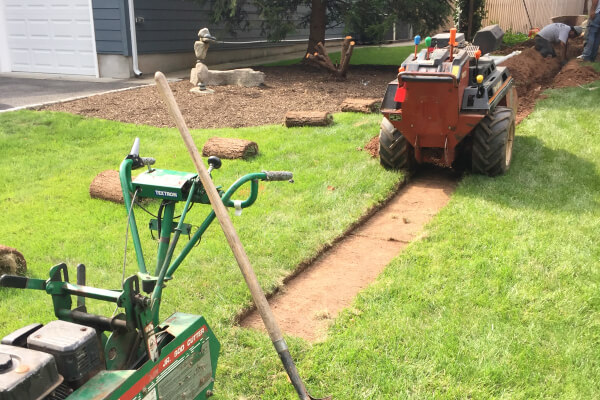 Using a sod cutter before trenching, we can install a complete drainage system with minimal landscaping disturbance. (Pictured: Yard drainage installation in Cranford, NJ)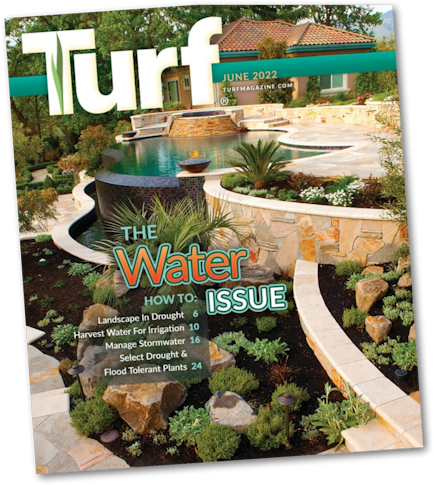 Read RF Landscaping's Stormwater Management Expert Rich Fidlow's latest article in Turf Magazine.
Read Full Article
3 Reasons Why Homeowners Choose RF Landscape Construction
Customized Solutions
Our seasoned yard drainage contractors apply their vast experience in successful yard drainage projects to your front yard, backyard, and driveway drainage issues. We begin every project with a thorough property, rainwater, and drainage evaluation to identify the root causes of your drainage issues. Taking into account your elevation, soil conditions, and water influx, we'll work with you to determine the best course of action.
Root Cause Identification
We approach every drainage project with a wide range of technologies, techniques, and proven solutions. Our team is committed to delivering the most effective drainage solution to mediate your water problems effectively. Our basement contractors begin every project with a thorough evaluation of the property to determine the underlying water issues. Once we identify the root cause, we will recommend a corrective course of action.
High-quality Results
Regardless of your water issues, we only implement proven techniques using the highest quality materials. This process guarantees a solution that is both effective and long-lasting. Even more, we achieve results that look great and fit flawlessly into your existing property's landscaping.
In the News: Turf Magazine Article

Stormwater Management: Drainage Solutions for Waterlogged Properties

We recently published an informative article on stormwater management in the June 2022 issue of Turf Magazine discussing the components of various types of stormwater management systems and the importance of yard drainage in keeping groundwater from accumulating on new and existing properties. With the recent uptick in new construction, the important and often overlooked issue of property drainage has become even more prevalent than in the past. Water accumulation on a new property and runoff and drainage onto surrounding properties can create unusable yards, moisture-related issues and structural damage to buildings, and health and safety issues. In the article, Rich Fidlow describes common yard drainage issues and the components of yard drainage systems used to appropriately re-route stormwater. RF Landscape Construction offers a full range of stormwater management solutions to add value to your property and prevent if from becoming damaged by groundwater buildup. Our experienced and knowledgeable stormwater management professionals are available to evaluate your property's unique characteristics and recommend the most effective drainage services to resolve its basement waterproofing and water drainage issues.
Union County's Best Yard Drainage Company
A Yard Drainage Contractor You Can Depend On!
For over 30 years, RF Landscape Construction has been providing landscaping services in the Union County, New Jersey area. Below are just several of the towns and surrounding areas we serve.
Fanwood
Garwood
Berkeley Heights
Mountainside
Summit
Watchung
Fix Your Water Issues Today!
Whether you're looking to fix a current drainage issue or proactively safeguard your property's future against water damage, RF Landscape Construction has the perfect yard drainage solution for your front yard, backyard, and driveway.
Get on the path to a dry yard by giving the yard drainage experts at RF Construction Landscape call at 908-276-6895 for a free estimate.
The RF Landscaping Estimate Guarantee
"Quality & Customer Service Matter!"
~ Rich Fidlow
Our Accurate Estimate Guarantee...
complete knowledge of the services and materials
detailed and precise itemization of materials and labor
no unanswered questions, no vague information and no open ended estimates