Clark Landscaper
Rejuvenate Your Property Today...
At RF Landscape Construction, we pride ourselves on our dedication to each and every one of our Clark customers. Our comprehensive landscaping service is designed to hone in on your individual needs. In doing so, we're able to bring your vision to life while accommodating your property as well as your budget.
Landscaping and Construction
With an unsurpassable attention to detail, it's no wonder homeowners throughout Clark have been trusting us with their homes for over 26 years. Employing the latest techniques, technologies and materials, we've provided landscaping services ranging from lawn maintenance and landscape design to yard drainage and foundation waterproofing and paver patios and driveways.
We Know Landscaping in Clark
From Hyatt Hills and Clark Commons to Oak Ridge Park, we've transformed the landscape of homes across Clark by enhancing their curb appeal and improving their overall health and value. We've provided trimming, mulching and landscape design services for homes along Raritan Road, Madison Hill Road, and Broadway. We've provided masonry and construction services, such as patio and walkway installation, to homes along Brant Avenue, Gertrude Street, and Ross Street. With the Middlesex Reservoir and Rahway River running through town, our experts have helped families implement preventative measures to combat flooding. We've installed yard drainage systems, sump pumps, and waterproofing solutions to homes along Wendell Place, Parkway Drive and Valley Road.
Many of your fellow residents have used our landscaping service throughout Clark:
Landscaping Services
Affordable Quality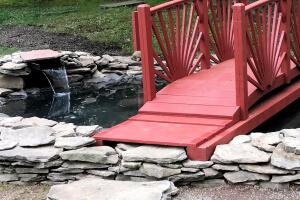 Pond Installation
Need more reasons to call us? Check out what your Clark neighbors are saying...
Front and backyard landscaping on Satin Germain Dr
Basement waterproofing and yard drainage system installation on Oak St
Paver patio and sidewalk installation on Franklin Ter
Landscape design service and maintenace on Lake Ave
Weekly lawn mowing for several houses on Emerald Pl
Fall and Spring Yard Cleanup on Stanton St
Basement waterproofing on Hartman Ct
Landscaper Near Me
Whether your property needs a little face lift or a total transformation, we've got the skills and expertise to get it done right the first time. We guarantee stunning results achieved by our time tested effective and efficient process.
Get started on your project by giving us a call today at 908-276-6895 or email.
Read Our Clark Landscaping Reviews
TOOK CARE OF EVERYTHING!

We were looking for a backyard landscaper who could do it all- trees, patio, and drainage. Rich and RF Landscape Construction took complete care of everything at a terrific price! They even finished sooner than estimated.
Doug Hansen
Clark, NJ 07066
Backyard Makeover
So GRATEFUL!

My property was looking so dead I was embarrassed to have people over. Rich Fidlow visited the property and came up with several ideas to beautify the property. They laid down mulch, planted shrubs, and trimmed my trees and shrubs. Plus, addressed all my yard drainage issue. It looks like a completely new house- I'm so grateful!
Lana and John F.
Clark, NJ 07066
Front and Back Yard Cleanup, Planting and Yard Drainage
Rejuvenate Your Property Today!
GET STARTED TODAY! Give your local Clark landscaper a call at 908-276-6895 or email us.
The RF Landscaping Estimate Guarantee
"Quality & Customer Service Matter!"
~ Rich Fidlow
Our Accurate Estimate Guarantee...
complete knowledge of the services and materials
detailed and precise itemization of materials and labor
no unanswered questions, no vague information and no open ended estimates