Cranford Landscaper
Rejuvenate Your Property Today...
At RF Landscape Construction, we pride ourselves on delivering a full suite of construction and landscaping services that solve your problems, enhance your property's appeal and add value to your home. Whether it be landscaping or construction, our experts will work with you to develop a landscape solution that is uniquely customized to your style, needs and budget. Our goal is to provide unsurpassable customer service and top-of-the-line results.
Landscaping and Construction
For over 26 years, we have been transforming properties in the Cranford area. Our experts have employed the latest techniques and technologies to do everything from pruning shrubbery and planting gardens to implementing drainage systems and installing walkways.
We Know Landscaping in Cranford
We've remodeled the landscapes of homes along Cranford's most trafficked streets. Travel toward the downtown area to see our landscape design and planting services complementing Cranfords' beautiful historical homes. We've remodeled landscapes and provided landscape maintenance for homes along North Union Avenue, Springfield Avenue, and Holly Street. Catch a glimpse of our masonry, including lawn maintenance, brick walkways and paver patios, on Victorian and modern homes alike. We've worked as a front and backyard landscaper along Walnut Street, Central Avenue, and Spruce Street. In the Venice of New Jersey, some of our most renowned work has been drainage and waterproofing. We've helped families combat floods and water damage in areas surrounding Nomahegan Park and the Rahway River, including homes along Riverside Drive and Orange Avenue.
Many of your fellow residents have used our landscaping service throughout Cranford:
Landscaping Services
Affordable Quality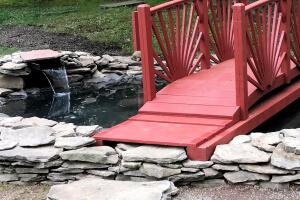 Pond Installation
Need more reasons to call us? Check out what your Cranford neighbors are saying...
Backyard landscaping on Springfield Ave
Yard drainage system installation on Riverside Dr
Basement waterproofing on Riverside Dr
Landscape design service and installation on Centennial Ave
Landscape maintenance services on Denman Rd
French drain and sump pump installation on Lincoln Ave
Fall and Spring Yard Cleanup on Hillcrest Ave
Landscaper Near Me
If you're seeking a local Cranford Landscaper who understands the area to enhance your property's curb appeal or give it a total transformation, we're here to help. An expert landscaper will meet with you to discuss a landscaping and construction solution that will bring your vision to life. Even more, we've made our landscaping service as affordable and time efficient as possible.
Get started on your project by giving us a call today at 908-276-6895 or email.
Read Our Cranford Landscaping Reviews
DREAM to REALITY!

We met with many back yard landscaping companies before finding Rich at RF Landscape Construction. Rich as the first landscape designer to truly understand our vision and his team was so accommodating in helping us achieve it within our budget! We loved it so much, we used it every night this past summer.
Mark D.
Cranford, NJ 07016
Backyard Paver Patio and Landscaping
BEAUTIFUL INSIDE and OUT!

When we finally found the home of our dreams, we had to settle with the dilapadated property. Rich and his team of landscape designers completely transformed our property. With brick walkways and all new shrubbery, you wouldn't even recognize the place. We love it!
The Jacksons
Cranford, NJ 07016
Front and Backyard Landscaping and Paver Walkway
Rejuvenate Your Property Today!
GET STARTED TODAY! Give your local Cranford landscaper a call at 908-276-6895 or email us.
The RF Landscaping Estimate Guarantee
"Quality & Customer Service Matter!"
~ Rich Fidlow
Our Accurate Estimate Guarantee...
complete knowledge of the services and materials
detailed and precise itemization of materials and labor
no unanswered questions, no vague information and no open ended estimates