Scotch Plains Landscaper
Rejuvenate Your Property Today...
From trimming trees and yard cleanups to designing walkways and paver patios, RF Landscape Construction will completely transform your property. In Scotch Plains, we offer comprehensive landscaping services designed to provide the highest quality results catered to your individual needs. With the utmost attention to detail, our professionals deliver stunning results that are in line with your budget and style.
Landscaping and Construction
We have enhanced both the functionality and curb appeal of properties throughout Scotch Plains for over 26 years. From installing drainage systems and waterproofing foundation to planting shrubbery and laying mulch, our landscaping service employs the latest methods and most innovative materials and technologies.
We Know Landscaping in Scotch Plains
We have transformed properties across Scotch Plains from Canterbury to Goodman's Crossing to Crestwood. Our landscape maintenance and landscape design services can be seen in homes along Glenside Avenue, Morse Avenue, and Martine Avenue. Our tree trimming, pruning and planting services can be seen in homes surrounding the bustling downtown. We've worked along Westfield Avenue, Mountain Avenue, and Front Street. Our masonry, including steps, walkways and patios, can be seen on homes both historic and remodeled. We've worked along Evergreen Avenue, Jerusalem Road, and Hetfield Ave. Finally, we've installed drainage and waterproofing mechanisms throughout the town. Our work can be seen on properties and in basements along Cooper Road, Raritan Road, and Prospect Avenue.
Many of your fellow residents have used our landscaping service throughout Scotch Plains:
Landscaping Services
Affordable Quality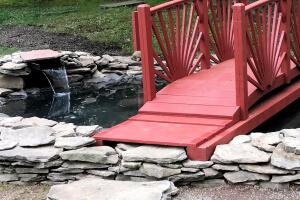 Pond Installation
Need more reasons to call us? Check out what your Scotch Plains neighbors are saying...
Backyard landscaping services on Mountain Ave
Backyard landscape design and planting on Seneca Rd
Yard cleanup and mulching on Deer Path
Spring/fall landscape maintenance on Rahway Rd
House foundation waterproofing on Westfield Ave
Paver patio and walkway design and installation on Raritan Rd
Lawn maintenance, fertilization and mowing on Terrill Rd
Landscaper Near Me
We are a local Scotch Plains Landscaper who understands the area and takes pride in our unwavering commitment to customer service. It's no wonder families across Scotch Plains have trusted RF Landscaping to solve their property problems and add value to the landscape and their homes. To discuss your individual situation with our landscaper consultants today.
Get started on your project by giving us a call today at 908-276-6895 or email.
Read Our Scotch Plains Landscaping Reviews
SO EASY & AFFORDABLE!

Between work and the kids, there's no time to for us to worry about landscape maintenance. RF Landscaping and Construction comes 4 times a year to tidy up our yard and make sure our trees and shrubbery are in check. I don't know what we'd do without their help- and great price!
The Marens
Scotch Plains, NJ 07076
Landscaping, Lawn Maintenance, Tree Trimming and Leaf Removal
BEAUTIFUL VISION & FLOW

We used RF Landscape Construction for their landscape design service. They planted, mulched, and built a paver walkway that gave our property a great, beautiful flow!
Sheila J.
Scotch Plains, NJ 07076
Landscape Design and Installation
Rejuvenate Your Property Today!
GET STARTED TODAY! Give your local Scotch Plains landscaper a call at 908-276-6895 or email us.
The RF Landscaping Estimate Guarantee
"Quality & Customer Service Matter!"
~ Rich Fidlow
Our Accurate Estimate Guarantee...
complete knowledge of the services and materials
detailed and precise itemization of materials and labor
no unanswered questions, no vague information and no open ended estimates