Westfield Landscaper
Rejuvenate Your Property Today...
With a steadfast commitment to customer service, RF Landscape Construction will transform the appearance of your Westfield landscape while adding value to your home. Our team is devoted to customizing our landscaping services to accommodate your needs, style, and budget. Even more, we'll deliver a stunning, customized solution as efficiently and effectively as possible.
Landscaping and Construction
We've worked with homeowners throughout Westfield for over 26 years. From landscape maintenance and landscape design services to masonry and drainage solutions, we've take the time to ensure every customer is 100% satisfied.
We Know Landscaping in Westfield
We've provided our landscaping service to homes along Westfield's most traveled streets. You'll see our work displayed from the bustling shopping district to the historic parks and everywhere in between. Our tree trimming, mulching, and backyard landscaping can be seen along East Broad Street, Central Avenue and West Dudley Avenue. Our customized masonry services, including walkways, patios and steps, have been the perfect complement to homes found through the town, ranging from Victorian to modern. We've worked on homes of all styles along Prospect Street, Gallows Hill Road, and Rahway Avenue. Finally, our drainage and waterproofing services can be seen along Lawrence Avenue, Chestnut Street, and Clifton Street.
Many of your fellow residents have used our landscaping service throughout Westfield:
Landscaping Services
Affordable Quality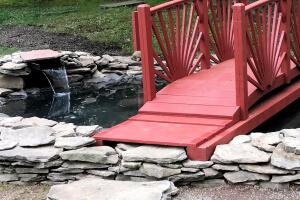 Pond Installation
Need more reasons to call us? Check out what your Westfield neighbors are saying...
Landscape and lawn maintenance services on Lawrence Ave
Paver patio and walkway installation on Prospect St
Landscape design service and installation on Shackamaxon Dr
Basement water proofing, french drain, sump pump, yard drainage and catch basin installation on Central Ave
Backyard landscaper services on Gallows Hill Rd
tree trimming and mulching services on Lawrence Ave
Landscaper Near Me
Whether you have issues with your property or wish to enhance its appearance, you can trust our unparalleled landscaping services to get the job done on time and budget. Give us a call today and we will send an expert landscaper to visit your home, evaluate your property and map out your vision. Then, we'll give you a free estimate, putting you one step closer to bringing your dream to life.
Get started on your project by giving us a call today at 908-276-6895 or email.
Read Our Westfield Landscaping Reviews
SO REFRESHING

I knew I wanted to stay in my parents' old home, but it definitely needed some sprucing up. Rich and RF Landscape Construction helped preserve the feel of our home while adding new trees, shrubs and pathways. Total rejuvenated!
Sharen K.
Westfield, NJ 07090, 07091
Planting, Landscaping and Lawn Maintenance
PEACE and TRANQUILITY

We called Rich at RF Landscape Construction to help us with our back yard landscaping. They were so great to work with. They designed a private oasis. Truly Beautiful!
The Schillers
Westfield, NJ 07090, 07091
Landscape Design and Installation (paver patio, yard drainage, walkway and plating)
Rejuvenate Your Property Today!
GET STARTED TODAY! Give your local Westfield landscaper a call at 908-276-6895 or email us.
The RF Landscaping Estimate Guarantee
"Quality & Customer Service Matter!"
~ Rich Fidlow
Our Accurate Estimate Guarantee...
complete knowledge of the services and materials
detailed and precise itemization of materials and labor
no unanswered questions, no vague information and no open ended estimates